Nikita is a PhD student in the Power and Energy Group of the Electrical Engineering Division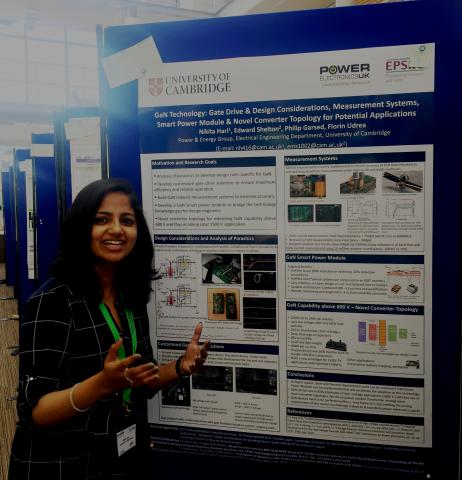 Nikita Hari is a researcher, academic consultant and social entrepreneur from India with a vision to uplift society through education. She is a Cambridge University Nehru Trust Scholar and Churchillian pursuing her doctoral studies in Electrical Engineering in the Power and Energy group.
She is also the COO and Co-founder of the social enterprise - 'Favalley' ( https://favalley.com )with the vision to turn slums into the next silicon valleys through engaging, training and matching marginalized youth to coding jobs. Nikita also tutors first year Engineering undergraduates of Churchill College.
How did you get in to engineering?
Being in love with Physics and Mathematics being a good friend of mine, Engineering came as an obvious choice to me after my A levels. The intrigue, fascination and excitement to fathom the unexplained 'electric shock' I received as a kid motivated me to take up electrical engineering as my specialization; starting off with an undergraduate degree, then moving on to do a masters and now pursuing a PhD in the same area.
What is your current research/work?
The world deals day in and day out with electrical power conversion— trillions of adjustments are made daily to deliver electricity from wall outlets to power any electronic device. And I work on the systems that do the converting – called 'Power Electronic Converters' – which are very inefficient, costing us billions every year. This problem, though astronomical, remains invisible to the common man! So through my research, I'm exploring a better way of converting this 'power' through 'Gallium Nitride Switches', which are poised to jumpstart the next generation of smaller, faster, denser and efficient power converters.
How have you overcome challenges and knockbacks in your career?
My biggest challenge right from my childhood was that, I had to question the stereotypical roles that society had framed for girls and fight for what I believed in. And to do so, I had to excel, be the best at anything I chose to do, as that was the only way I could make my voice heard and choose my desired career path. So through my outreach activities I try to motivate and inspire girls to take up STEM subjects and tell them not to allow their gender to be a reason standing in the way of their goals because 'Science knows no gender!'
The greatest blow I received in my career was when I fell seriously sick and my family hit by a serious crisis at the same time. When problems come, they come in battalions and it took a hard toll on my research wherein I couldn't work for months together. Being in a very unsupportive research group added to my misery, but at the end of the day I have a very supportive group of friends, my college Churchill, my tutor Alex and the Department of Engineering staff who are helping me work my way through it.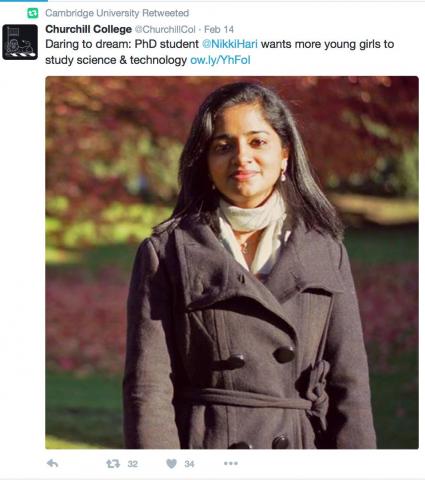 How have you managed to balance family life and other interests with your career?
My typical day starts with a call to my mom in India discussing everything from how naughty our doggie 'Appu' is getting to Brexit. My family and friends know about 'GaN' more than about me – well, I love to spread my 'GaN' enthusiasm to everyone around. I try to maintain strong bonds with my near and dears, because, for me, this journey is all about the people I meet and the smiles we share, as that adds sweetness to my professional success for, they are the ones who clap at my victory. It is indeed very challenging, time consuming and tiring to deal with people – but for me, it's worth it!
What is one of your biggest aspirations/plans for the future?
My biggest aspiration and vision is to educate, inspire and help socially disadvantaged children around the globe, especially young girls to take up scientific studies and research thereby igniting their lives. Thus I'm passionate about making a positive contribution to society through technology and education.
I Co-founded the social enterprise 'Favalley' to live up to this vision of mine. Read more about Favalley at http://www.deccanchronicle.com/technology/in-other-news/250316/slums-into-silicon-valleys.html .
Do you have any advice for women who are considering pursuing a career in Engineering?
Your destiny is your decision! Do not allow the societal stereotypes to stop you from pursuing your passion. Let nothing stop you from doing what you love most. Let your wings of dreams fly high. "You don't have to be a 'Superwoman' to do Engineering, If I can do it, you can do it too!!" ( https://twitter.com/NikkiHari/status/749275139406176256 )
Awards and Recognition
Nikita has won many accolades and awards- from been listed in Asia - Pacific Who's Who list for meritorious contribution to society through education by exemplary leadership, the prestigious Forbes 30 under 30 Achievers finalist in Europe in the Science category to the 'Inspirational Women in Engineering Award and Academic Excellence Award' by various  organizations in India. Churchill college recognized her by featuring a cover story on her on International women's day in Science. Read more at : https://www.chu.cam.ac.uk/news/2016/feb/14/daring-dream-nikita-hari
She also won many academic excellence awards and scholarships like Cambridge Trust Scholarship, BFWIG foundation grant and was awarded Gold Medals for being the University Rank Holder and outstanding academic merit for both her Masters and Bachelor's Degree in Technology.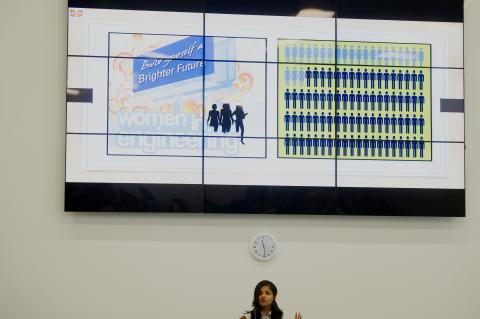 Outreach activities
Currently she is the COO of Favalley, serves as the secretary of IEEE-Cambridge, Cambridge Conference Director of Beyond Profit and is an executive member of CamAwise steering committee (https://camawise.org.uk/2016/01/24/meet-the-steering-group-nikita-hari). She is also a regular invited speaker at Soapbox Science (http://soapboxscience.org/?p=3228), Cambridge Science Festival, GSA Girl conference and STEM events  to help voice the aspirations of women in STEM (https://www.chu.cam.ac.uk/news/2016/jul/6/soapbox-science-churchill-students-take-science). She was also the first Chairperson of the EPSRC Centre for Power Electronics Post Graduate Forum and was instrumental in bringing together the postgrad researchers in power electronics together .
Read more here : http://truevisionnews.com/news/one-life-thousand-dreams-a-million-possibilities-nikita-hari-describing-her-journey-of-life