Embracing Engineering Diversity Poster Competition 2019: Recognising and celebrating Inspiring Engineers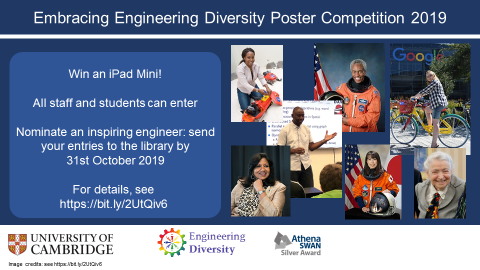 Win an iPad Mini!
Nominations should celebrate engineers who demonstrate diversity and inclusivity in engineering, from a range of genders, cultures and experiences.
Entries should include:
A short paragraph about your nominee's contribution to engineering (around 100 words)
A photo of the engineer (we may choose an alternative for display)
The reasons why they inspire you
All entries should be provided using the Powerpoint template HERE.
Entries should be sent to the Library (library@eng.cam.ac.uk), marked 'Embracing Engineering Diversity competition 2019'. 
Your name and email address should be kept off the template, so that judging can be anonymous. 
Qualifying entries:
The competition is open to all students and employees of the Engineering Department.
There is no (upper or lower) age limit for your nominations.
Staff and students currently employed or studying in the department are excluded from nomination, but you may nominate engineers who have a less formal connection with Cambridge.
The nominee's achievements need to be recognisably 'Engineering'.
More than one entry per person is permitted.
Where possible, use images with a copyright or creative commons license that allow display and reuse.
The judging panel will be formed of the Head of Department and members of the Athena SWAN Panel. 
Please note that the entries will be judged on the reasons why you find the engineer you have nominated inspiring, as much as on their achievements.  We will also be looking for variety in the winning entries to be displayed.
All entrants will be invited to a lunch party, where the winner will be presented with the iPad mini. Runners up will be presented with a Heffers voucher, and all winning entries will be displayed in the department. 
Closing Date: 31st October 2019
Image credits: Photographs on the promotional poster are:
Ayanna MacCalla Howard, Georgia Institute of Technology, 2008. CC-SA 3.0. (https://commons.wikimedia.org/wiki/File:Ayanna_M._Howard_-_SnoMote.jpg)
Kunle Olukotun, Helleski, 2018. CC-SA 4.0. (https://commons.wikimedia.org/wiki/File:KunleOlukotun-2018photo.jpg)
Guion Bluford, NASA, 1992. (public domain).(https://commons.wikimedia.org/wiki/File:Guion_Bluford.jpg)
Naoko Yamazaki, NASA, 2009 (public domain).(https://commons.wikimedia.org/wiki/File:Naoko_Yamazaki.jpg)
Kiran Mazumdar-Shaw, Science History Institute, 2014. CC-SA 3.0. (https://commons.wikimedia.org/wiki/File:Kiran_Mazumdar-Shaw_HD2014_crop.jpg)
Mildred Dresselhaus, Pete Souza, 2012 (public domain). (https://commons.wikimedia.org/wiki/File:Barack_Obama_greets_Burton_Richter_and_Mildred_Dresselhaus_(cropped).jpg)
Abbie Hutty, JessWade88, 2017. CC-SA 4.0 (https://commons.wikimedia.org/wiki/File:Abbie_Hutty_at_Google,_Mountain_View.jpg)